Be More, Supplements
Evening Primrose Oil
€ 15,99
helps to maintain the health of the skin and connective tissue
participates in hormone balancing
helps to relieve problems, which are related to menstrual cycle, such as breast tenderness, swelling and skin problems
affects the production of prostaglandins (a group of physiologically active hormone-like lipids), which are found in every cell and related to the body's metabolic functions
contains 60 softgels (80,4 g)
bemore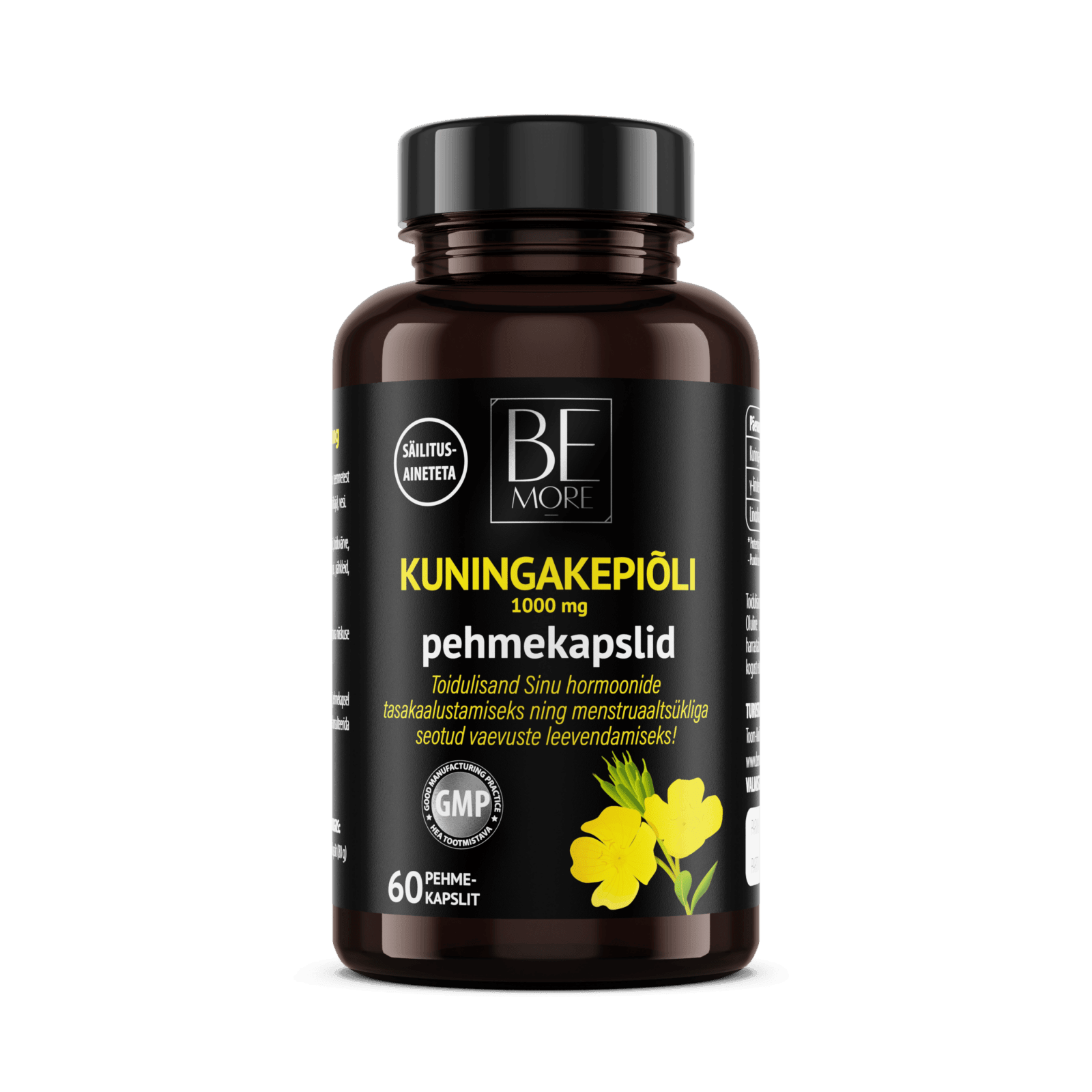 Evening Primrose Oil 1000 mg Softgels are suitable for…
women of childbearing age, who have complaints of menstrual cycle before and/or during it
women with menopausal symptoms to balance hormonal levels
people, who need an extra amount of γ-linolenic acid
people, who have dry skin
| The daily dose contains | 1 capsule | Daily value |
| --- | --- | --- |
| Evening Primrose Oil | 1000 mg | - |
| Gammalinolenic acid (GLA) | 90 mg | - |
| Linoleic acid (LA) | 730 mg | - |
- Daily Value not established
Evening primrose (Oenothera biennis) comes from North America, which has adapted to growth in other parts of the world, including Europe. The flowers of evening primrose bloom in the evening. Oentothea biennis seeds contain up to 15% fatty oil and are obtained by using cold pressing or hexane extraction method. Fatty oil contains ω-6 fatty acids, cis-linoleic acid and cis-γ-linolenic acid (also known as gamolenic acid). Linoleic acid is an essential fatty acid, which the human body cannot synthesize, and it can be obtained from food. The body synthesizes γ-linolenic acid from linoleic acid through an enzyme. γ-linolenic acid affects the production of prostaglandins (a group of physiologically active hormone-like lipids), which are important to reduce inflammatory processes. As a result, evening primrose oil, helps to balance hormones and helps to relieve problems, which are related to menstrual cycle. In addition, it helps to maintain the health of the skin and connective tissue.
Information
Ingredients:

Cold pressed fatty oil from the seeds of Evening Primrose (Oenothera biennis), gelatin (gelling agent), glycerin (humectant), water.
The product does not contain:

Artificial flavors, flavorings or preservatives, food colors, sweeteners, sugar, gluten, fish, soy, egg, lactose, nuts, sulfites or genetically modified ingredients.
Directions for use:

For adults (from 18 years old) 1 softgel per day swallowed with food and water.
If you are pregnant or breastfeeding, have a consultation with your doctor
Warnings:

Patients, who have epilepsy or who are using anticoagulants need to have consultation with a doctor before using Evening Primrose Oil 1000 mg Softgels. It is recommended to stop using Evening Primrose Oil 1000 mg Softgels two weeks before surgery or any other invasive medical procedure, due to a potential risk of bleeding. If you are pregnant or breastfeeding, have a consultation with your doctor before using Primrose Oil 1000 mg Softgels.

The food supplement is not intended to replace a varied diet! It is important to eat a varied and balanced diet and lead a healthy lifestyle! The recommended daily intake must not be exceeded!
Storage conditions:

Store in the original package and at a temperature of 5-25 ℃ protected from moisture and direct sunlight.

Keep out of the reach of children!

The right storage conditions help to prevent changes in fatty oil. Please consider it when you are ordering to outdoor parcel machines.
Additional information:

Country of origin: United Kingdom
Net weight : 60 softgels (80,4 g)
Gross weight: 109 g
Size of softgel: oval
Package: PET bottle with screw cap